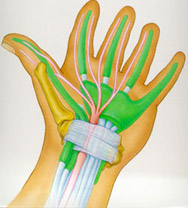 In today's day and age, the personal computer has become a central component in our everyday lives, and its' widespread use in the home and workplace has given rise to a host of computer-related disorders. It is very likely that most people who use computers on a daily basis are aware of carpal tunnel syndrome. Carpal tunnel is one of several computer-related disorders that include epicondylitis, De Quervain's tenosynovitis, extensor/flexor tenosynovitis and tendonitis, all of which are commonly referred to as RSIs (repetitive strain injuries), RMIs (repetitive motion injuries), and OOS (occupational overuse syndrome).
What are the factors involved in computer usage that contribute to these disorders? Research conducted by the National Institute for Occupational Safety and Health (NIOSH) indicates that job tasks involving highly repetitive manual acts, or necessitating wrist bending or other stressful wrist postures, are connected with incidents of RSI or related problems. The causes of RSI that NIOSH indicates accurately describe the actions involved in an average day of typing and mousing. Much of the blame for this lies on the design of the standard keyboard and mouse, which are the primary input devices for most computers sold and used today.
The standard QWERTY keyboard had its inception with the invention of the typewriter. It was specifically designed to provide the maximum distance between the most commonly used keys in an effort to prevent jamming of the mechanism. This poor distribution of keys causes the weaker ring and little fingers of the hand to the majority of the work when typing. The typical mouse does not have as long a history as the QWERTY keyboard. It came into widespread usage as an input device with the introduction of the Graphical User Interface or GUI. Virtually every popular Operating System (OS), application and game requires the mouse for successful interaction. The *repetition of motion, muscular *force, *static exertion and *contact stress required to operate these devices over a prolonged period of time all contribute to the risk of RSI. RSIs are among the most costly, severe and debilitating disorders in the workplace today.
While there is no absolute method for the prevention of RSI's associated with computer usage, there is professional consensus on ways to control it. NIOSH recommendations for reducing the risk of RSI have focused on ways to relieve awkward wrist positions and repetitive hand movements, as well as improving the layout and ergonomics of workstations. Other recommendations include altering the existing method for performing the task and providing more frequent rest breaks. This is where Vetra Safe-Computing products can help.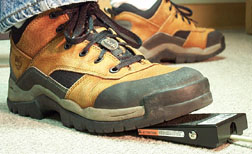 By using the foot to share in, or completely replace, the most common repetitive hand motions involved in typing or operating a mouse, you can greatly reduce the risk of developing RSIs. While the hand is capable of the full range of motion required to operate these devices, it is not designed to do so repetitively. The foot however, is well equipped for handling repetitive motion (walking). Nature and evolution made it that way!
As any CAD or graphics designer will tell you, one of the most difficult motions to perform on a daily basis is clicking mouse buttons, particularly click and drag functions. The VIP-912-MP allows you to operate the left and right mouse click buttons with your feet via two independent low profile footswitches or from one dual-action footswitch. This relieves the muscular force and static exertion your fingers experience when subjected to repetitive mouse clicking and click and hold operation. The VIP-912-MP supports all click and hold functions and does not interfere with the normal operation of the connected mouse in any way.
PCs are used extensively for manufacturing and test applications in many of today's modern factories. A person on an assembly line might use the up and down arrow keys on a keyboard to scroll through assembly drawings repeatedly. A simple quality control go / no-go test may require the operator to hit the <enter> or <esc> key hundreds, or even thousands of times a day. Process monitoring operations might require the observer to type one of several character strings over and over again. The VIP-912-FS provides the ability to deliver dedicated keystrokes or pre-programmed character strings to the PC's keyboard port by operating a combination of single or dual-action footswitches. This flexible foot-operated system allows normal operation of the connected keyboard, or can be utilized in stand-alone systems for applications where the presence of a standard keyboard is undesirable.
Vetra Systems Safe-Computing products provide a beneficial alternative to hand operation of keyboards and mice. For more information on these products, please click on the links above.