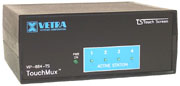 VIP-884-KMV-TS Quad Workstation Touch Technology KVM Splitter






VIP-382-KMV-1-TS Dual Workstation Extendable Touch Technology KVM
Splitter

Realize the full potential of your Touch Screen applications.....
Vetra's exclusive new line of KVM products is designed for PCs and applications utilizing Touch Screen technology.
The "MegaTouch" line of Touch Screen KVM switches provide a single keyboard, mouse, and / or touch screen monitor access to as many as 64 PCs. 2, 4, and 8 port expandable models are available.
The "TouchMux" line of Touch Screen KVM Splitters allow multiple workstation access to a single PC.
The "XtendaTouch" line of extendable Touch Screen KVM Splitters allows combinations of local and remote workstations access to a single PC.
Click here for a complete list of our Touch Technology KVM Products.

VIP-808-KMV-TS 8 port Expandable Touch Technology KVM Switch







VIP-808-V-TS 8 port Expandable Touch Screen Video Monitor Switch